More than 1,000 of your favorite stores, including Amazon.com, Pottery Barn, Best Buy, Staples, eBay, PETCO, and Expedia, are available at iGive.com, and up to 26% of your purchase price is donated to the OCWC when you identify us as your charity of choice. Membership in iGive.com is free and you will never pay more to shop at iGive. Join today at www.igive.com/ocwc!
SUPPORT THE OCWC THROUGH THE RALPHS COMMUNITY CONTRIBUTION PROGRAM:
Register online at www.ralphs.com
Be sure to have your Ralphs REWARDS card handy and register your card with the OCWC.
If you don't yet have a Ralphs REWARDS card, they are available at the customer service desk at any Ralphs.
Most participants are new online customers, so they must click on 'No Account? Register' (top right hand corner).
Follow the easy step-by-step instructions to create an online account.
After you confirm your online account in your email inbox, then return to www.ralphs.com and click on your name.
Scroll down to Community Rewards - Enroll.
Type our NPO number, 81731, or Orange County Women's Chorus and complete your enrollment process.
You must swipe your registered Ralphs REWARDS card or use the phone number that is linked to your registered Ralphs REWARDS card when shopping for each purchase to count.
Register today at eScrip.com to support the OCWC at local merchants, in restaurants and with your online shopping.
Go to www.escrip.com
Click on "sign up."
Follow the instructions to register your grocery cards and existing debit/credit cards. Search for us by name or enter our group ID: 500022922.
Start shopping and dining! Through the eScrip Dining Rewards Network, 2.5% of your total bill (including tip) at restaurants across the country will be donated to us automatically once you've registered your debit and credit cards. More than 1,000 of your favorite stores, including American Eagle, Best Buy, Nordstrom and more, are available at the eScrip.com Online Mall, and up to 16% of your purchase price is donated to the OCWC when you identify us as your charity of choice. (Note: we are NOT eligible for contributions from certain merchants in the eScrip program who limit their recipients to schools.)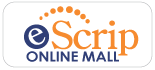 ---